---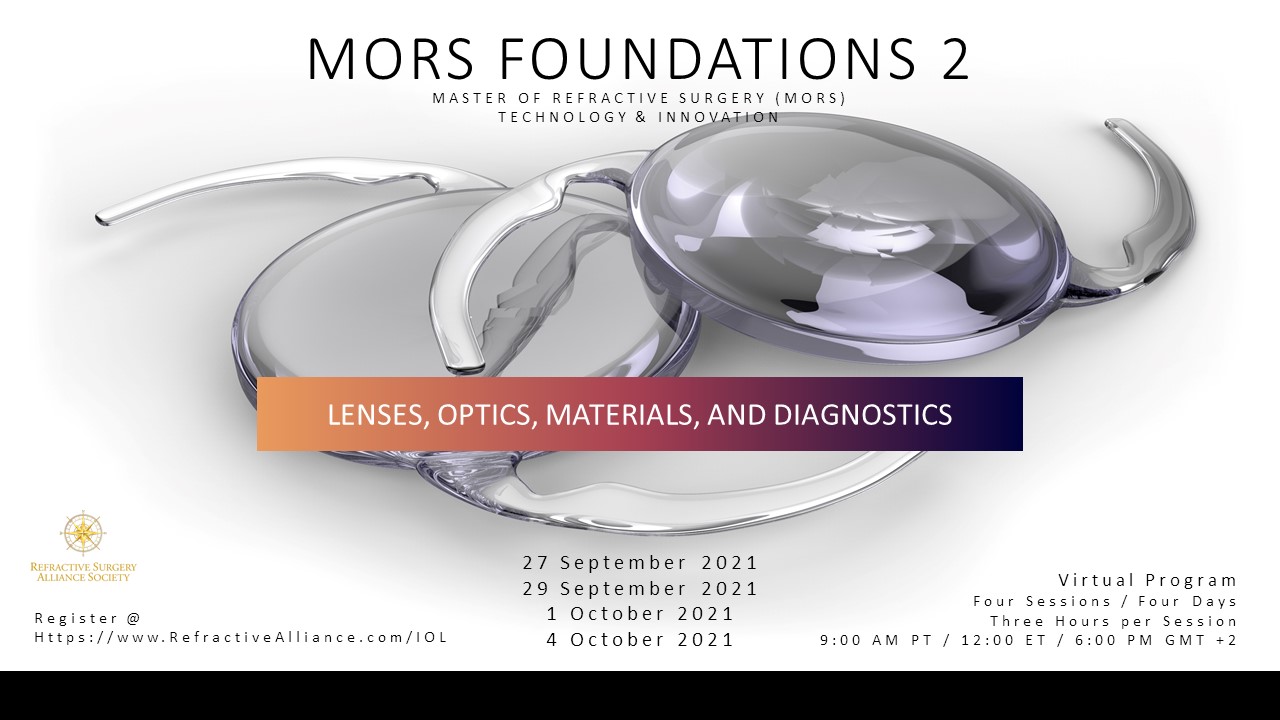 Session 1: Sept 27, 2021
Session 2: Sept 29, 2021
Session 3: Oct 1, 2021
Session 4: Oct 4, 2021
In Collaboration with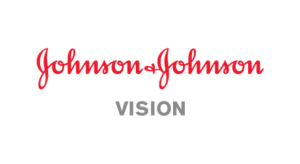 The Netherlands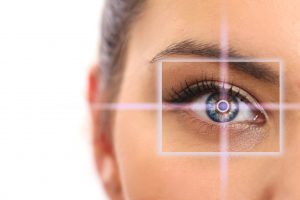 Are you ready for the next technology?
Are you ready to expand your reach?
Registration is NOW OPEN for:
LENSES, OPTICS, MATERIALS, and DIAGNOSTICS (Register Today!)
We are grateful and excited for the amazing faculty for the next series in the MORS Foundations 2 Program, LENSES, OPTICS, MATERIALS, and DIAGNOSTICS, and especially for the privilege of having Michael Mrochen, PhD to Chair the event.
This unique online course spans 4 separate 3-hour sessions at 18:00 - 21:00 (Zurich, GMT+2)
Monday, September 27, 2021: Current and Future Technologies
Wednesday, September 29, 2021: Physiolocis Optics & IOL Optical Designs
Friday, October 1, 2021: IOL SelectionTools & Strategies
Monday, October 4, 2021: IOL's from Design to Market
The recordings will be made available for 1 week after the conclusion of the course. (Register Today!)
Everything about this program is exciting — faculty, format, and content. Those who have attended programs in this series in the past will benefit from hearing about the amazing innovations that are happening, and those who have not attended will be amazed at the quality of the content.
Have you ever wondered about the differences in IOL materials, how the optics can be made so precise in such a small lens, how the diagnostics can be so accurate (and why they are not), and what it takes to go from a design concept to a product on the shelf? You might be amazed at the creativity, endurance, precision, and insight required! The RSA Foundations series provides a deep dive into these concepts to enable refractive surgeons to engage in the innovation process—not only as clinical investigators but as true innovators. Presented by scientists and leading clinicians, this series provides content that is not usually offered to clinicians.
Faculty this year include a mixture of world-class cataract & refractive surgeons, PhD researchers, engineers, and manufacturers.
RSA members Michael, Mrochen, PhD, Guillermo Rocha, MD, and Roberto Zaldivar, MD will kick off the first session with their keen insights into State-of-the-Art IOL Technologies used today and a Vision for the Future of IOL's. Get ready to see the future.
Session two highlights Physiologic Optics & IOL Optical Designs. Section leads are second to none, with Jim Schweigerling, PhD, Carmen Canovas, PhD (J&J), Patricia Piers, PhD (J&J), and Bran Schwan, MD (J&J)
Friday's session, session three pivots to a topic near-and-dear to every cataract refractive surgeon's heart - Tool & Strategies for IOL Selection! Arthur B. Cummings, MD will lead a discussion on Clinical Aspects of Diagnostics for IOL Power Calculation, followed by Michael Mrochen, PhD who will share his unique insights about the Technology for Diagnostic Devices used by clinicians. Li Wang, MD, PhD rounds out the session with a discussion on the Fundamental Limitations of IOL Power Calculation and Optical Interpretation. This is going to be a great session for all involved!
Session four on Monday, October 4, ushers in eh R&D Perspective of the IOL Pathway from Lab to Market,  including discussion on IOL materials, testing, and a virtual, behind-the-curtain tour of the main Johnson&Johnson IOL factory in the Netherlands. Michael Mrochen, PhD, Patricia Piers, PhD, Michael Lowrey, PhD, Leonie Tebbes, MK Raheja, PhD, and Luis Vargas, MD are our narrators and host for this session of the program.  A great deal of preparation and coordination has gone into the planning, and this promises to be another great event.
The focus of this program is strictly educational! There is no sales focus whatsoever – we appreciate the opportunity to use the Johnson&Johnson facilities, and the RSA pays all the bills. The focus is on understanding technology and having the frameworks to separate reality from marketing.
The Refractive Surgery Alliance Foundations programs are core components of the Masters of Refractive Surgery (MORS) program. The three modules in the Foundation's program rotate on a 2-year schedule. The first module focuses on corneal technologies, the second focuses on lenses, and the third teaches about Innovation. The two-year cycle allows for new and fresh material to be presented each time. All RSA members are encouraged to participate!
The Foundation courses are led by RSA-member Michael Mrochen, PhD of IROC Sciences, who is one of the most prolific, high-quality innovators in refractive surgery. The opportunity to learn from a true master innovator is a rare privilege. These courses present unique content that we've never seen presented anywhere before – and that every refractive surgeon should know.
RSA Member Pricing - 2 Tiers
• ALL-ACCESS PROGRAM FEE $250 USD - Available to RSA Members Only, this course fee covers all four program sessions as well as provides access to the recordings, made available for 1 week after the conclusion of the course. Registration is required. (Register Today!)
• RESIDENT/FELLOW PROGRAM FEE $50 USD - Available to RSA Resident/Fellow Members Only, this course fee covers all four program sessions as well as provides access to the recordings, made available for 1 week after the conclusion of the course. Registration is required. (Register Today!)
Disclosures and Qualifications:
(1) This program is not a Continuing Medical Education activity. It is funded by the Refractive Surgery Alliance, Inc. without financial support from vendors. (2) Products, brand names, investigational devices, and off-label uses of approved devices will be discussed. (2) Participation is limited to current members of the Refractive Surgery Alliance Society. (3) Successful completion of this module will qualify for 1 of 3 Credits toward completion of the Foundations Dimension of the RSA Master of Refractive Surgery (MORS) Program. (4) Modules for the Foundations Dimension repeat every two years.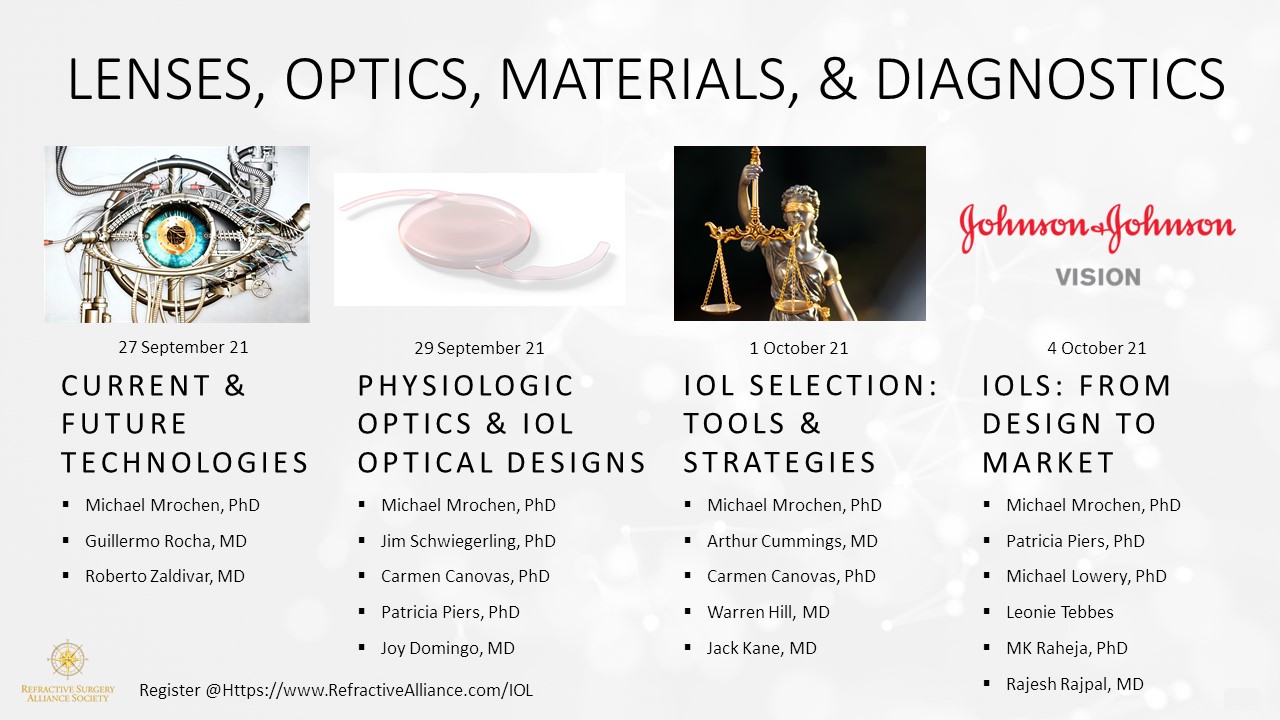 Every RSA Member should take this course. Register Today!
---