The RSA Grand Rounds Webinar Series
The RSA Ophthalmology Resident Series is a Certificate Program provided by and through the Refractive Surgery Alliance Society and the College of Refractive Surgery.
RSA Grand Rounds Series consists of a curated collection of structured webinars by Top Practitioners – Optometrists & Ophthalmologists.
Topics are directed at Collaborative Care Team Members and their staff.
The Content provides a Comprehensive Overview of the Major Topics in Refractive Surgery.
Intended to Enable Participants to Participate in Refractive Patient Management.
Participants who successfully complete the RSA Grand Round Series receive a Certificate of Completion and become eligible for Clinical Internships.
Participation in this series is provided at no cost.
All funding to support this series is provided by the Refractive Surgery Alliance members. The RSA does not accept any manufacturer or supplier funding whatsoever!
For those seeking Certification by the College of Refractive Surgery
Please complete the brief assessment after each webinar. The assessments validate your participation and provide input to guide future program development. They take only a few minutes to complete.
All RSA Grand Rounds are compiled into this "RSA Grand Rounds Showcase" link provided below.
Click the "Name" of the webinar to open the individual webinar for viewing.
Click the "Play" button to view the webinar.
For those seeking a Certificate of Achievement from the College of Refractive Surgery and/or Clinical Internship, the following item is required:

Complete the "Assessments" provided within each webinar.
Assessments may be retaken if you desire.  Scores of 70% or higher are acceptable, 80% or higher preferred.
Click Here or on the Image Below to View the RSA Grand Rounds Webinar Showcase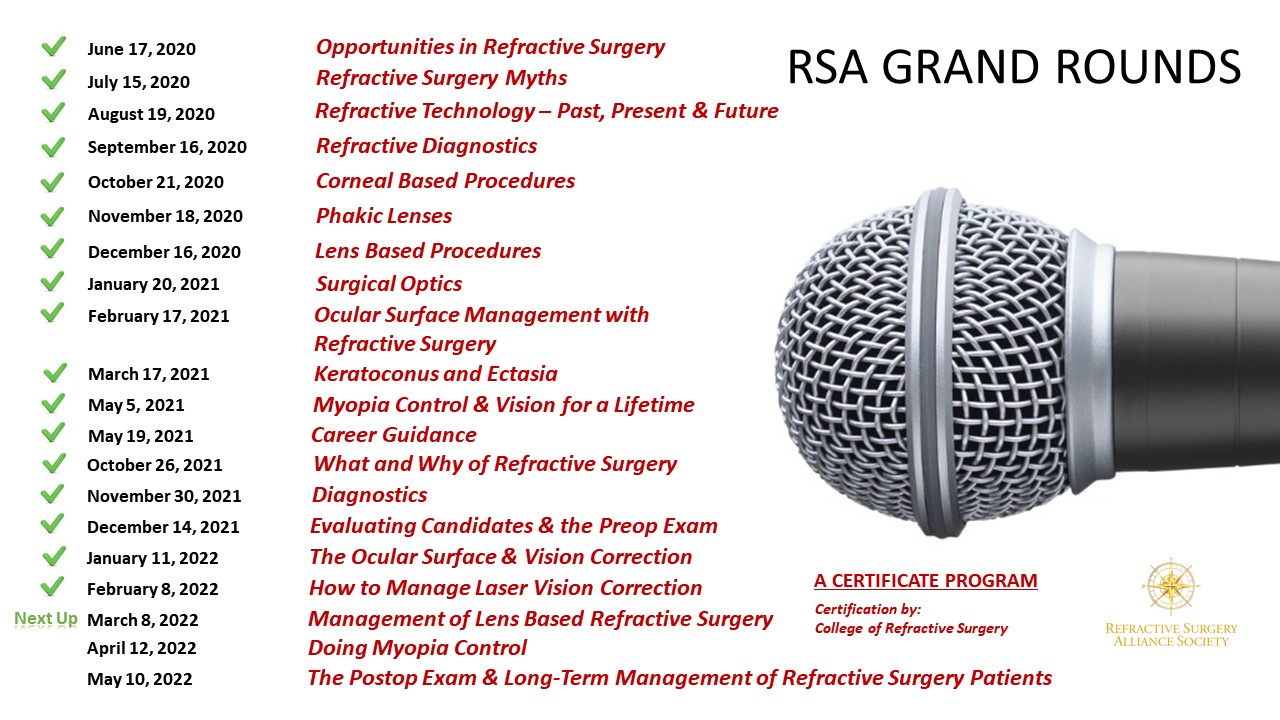 SPECIAL NOTE:  You do not have to be an RSA Member to Register for this Series, however, for those of you seeking Certification by the College of Refractive Surgery, registration in the RSA Grand Rounds Webinar Series is Required for Certification.
Assessment Test are located within the description area of each recorded webinar. Click on the "Name of the Webinar" as shown below, to open…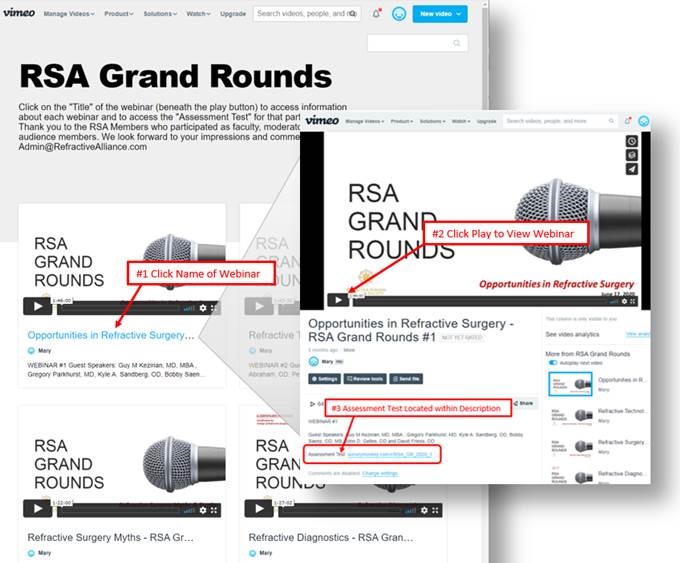 Not yet registered for the RSA Grand Rounds Webinar Series?
Register Below – There is no fee to participate 🙂 !
https://us02web.zoom.us/webinar/register/WN_mqZzql5QRiuARIVaUwmjWw