---
Long-Format Discussion & Insights by RSA Mentors
The RSA Fireside Chat Series
Members of the Refractive Surgery Alliance have made major contributions to refractive surgery. Their insights are extremely valuable and yet seldom heard. The RSA Fireside Chat series provides the opportunity to do a deep dive into key topics, technologies, and strategies that are essential for refractive surgery success. The content is unique and extremely valuable! Hosted by RSA member Chuck Williamson, MD of Williamson Eye Clinic in Baton Rouge, Louisiana in a long-form interview format, every webinar in this series is an opportunity to learn from the masters.
All RSA Fireside Chats will be compiled into this "RSA Fireside Chat Showcase" link provided below.
Fireside Chats are for RSA Members only.
This Showcase requires a Password –
---
Guest Speaker: Vance Thompson, MD, Founder & Director Refractive Surgery, Vance Thompson Vision
Professor Ophthalmology, Stanford School of Medicine, University South Dakota
South Dakota, USA
Well known for his advanced patient-centric philosophy on "The Culture of Customer Experience" everyone will be interested in what Vance Thompson, MD – founder and director of refractive surgery at Vance Thompson Vision has to say. Join Charles Williamson, MD, and Vance Thompson, MD as they discuss innovative best practices, share insights, thoughts, and tips about ophthalmology and "The Culture of Customer Experience".
Click Here to view – or on the image below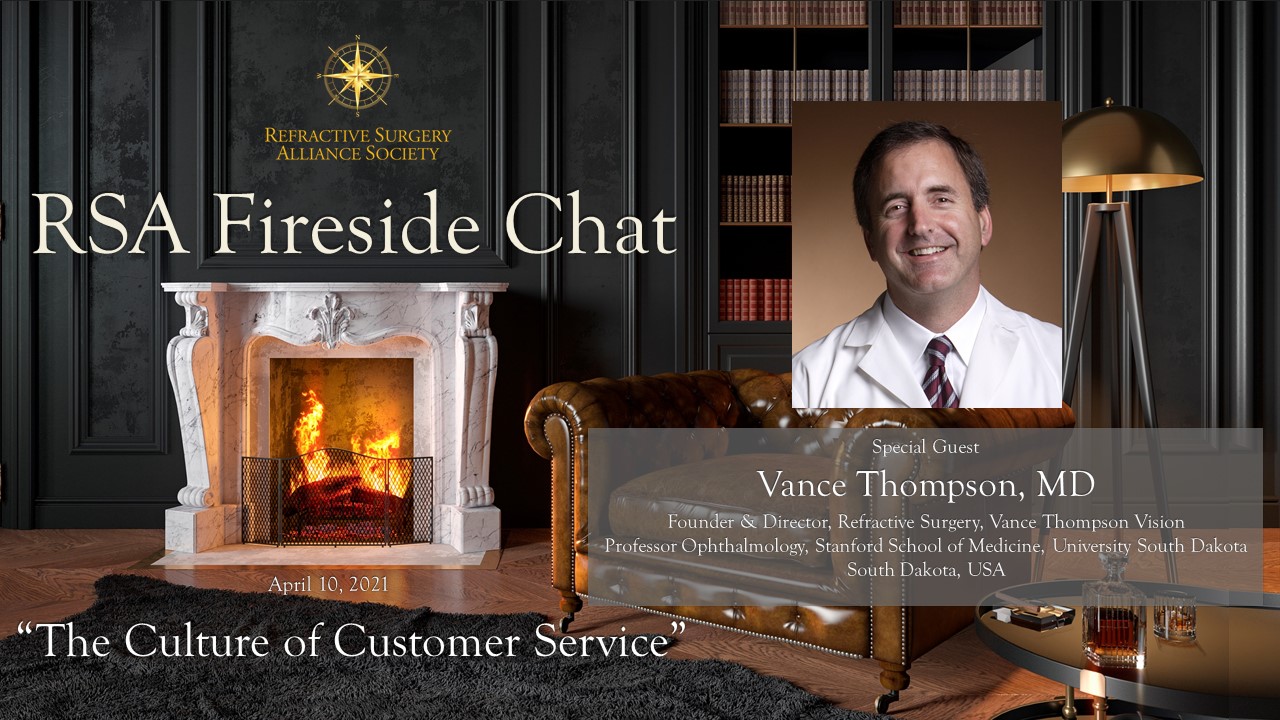 ---
Guest Speaker: Renato Ambrósio, Jr, MD, PhD, President, International Society of Refractive Surgery (ISRS)
Adjunct Professor, Federal University of the State of Rio de Janeiro (UNIRIO)
Instituto de Olhos Renato Ambrósio, Rio de Janeiro, Brazil
Visare Rio/Refracta Personal Laser, Rio de Janeiro, Brazil
Can I operate on this cornea?
… an exclusive RSA Fireside Chat with Renato Ambrósio Jr, MD, PhD, a pioneer in corneal imaging and the use of Artificial Intelligence for corneal screening, with insights immediately applicable to clinical practice.
FFKC is THE major risk factor for progressive (iatrogenic) ectasia after laser vision correction. But what is FFKC? While there is no consensus on the definitions for forme fruste keratoconus, being able to differentiate FFKC from keratoconus suspect is a key determinant of whether or not it is safe to operate. Multiple imaging modes often yield conflicting information, leaving the clinician with no clear answer. This webinar will provide a long-format interview to dive into the concepts with the co-inventor of the Bellin Ambrosio Enhanced Ectasia Display (BAD), a cornerstone of clinical practice.
RSA member Dr. Ambrosio is an Adjunct Professor of Ophthalmology at the Federal University of the State of Rio de Janeiro (UNIRIO) and is the current president of the International Society of Refractive Surgery (ISRS). Please join us for this unique opportunity to hear behind-the-scenes perspectives with Dr. Ambrosio!
Click Here to view – or on the image below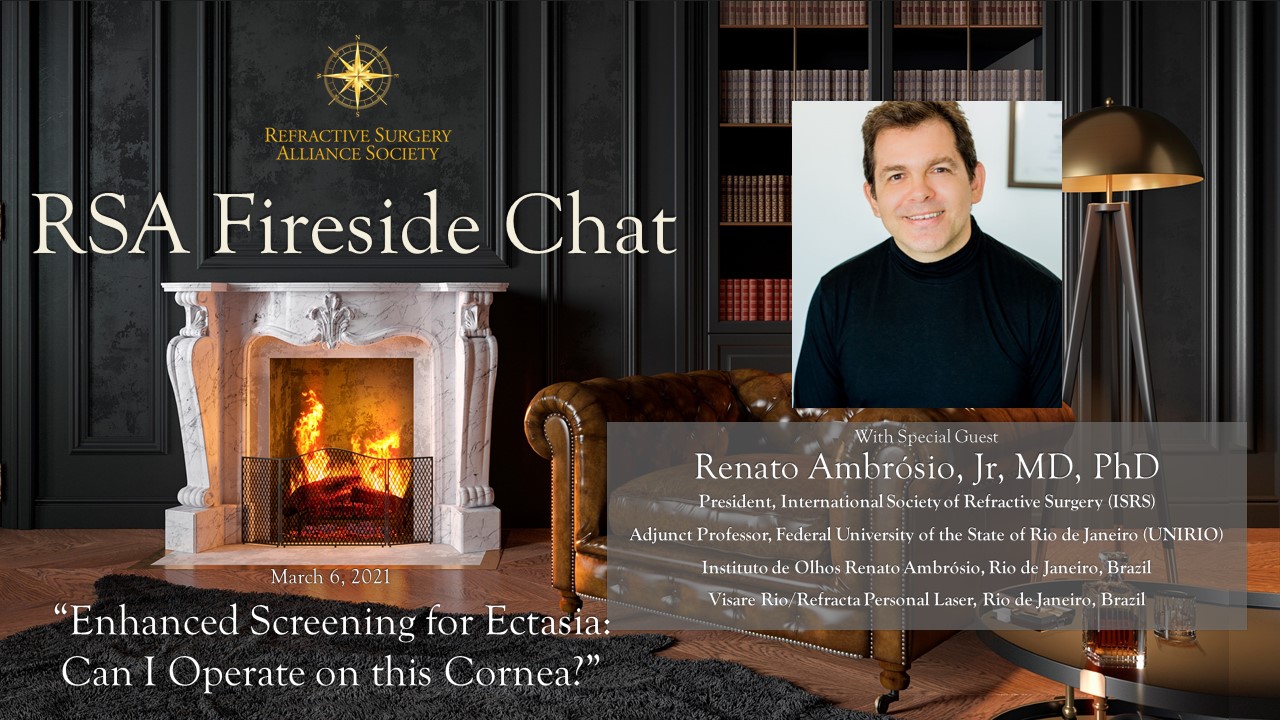 ---
Guest Speaker: Daniel S. Durrie, MD, Chairman of the Board, iOR Partners / Founder, Durrie Vision
The human visual system brings light to the brain and the brain is what makes vision happen. Neuroadaptation, summation, stereopsis, fusion, and integration all occur at higher levels. Surgeons who think of blended vision as monovision often reject the idea because they do not understand the physiology of blended vision.
RSA member Dan Durrie, MD conducted pioneering clinical research into the functional vision of patients with various levels of anisometropia and has described the limits and capabilities of blended vision. Join us for an in-depth discussion about blended vision and how it can grow your practice by providing excellent vision at all distances for your patients, at any age.
Click Here or Image Below to View Showcase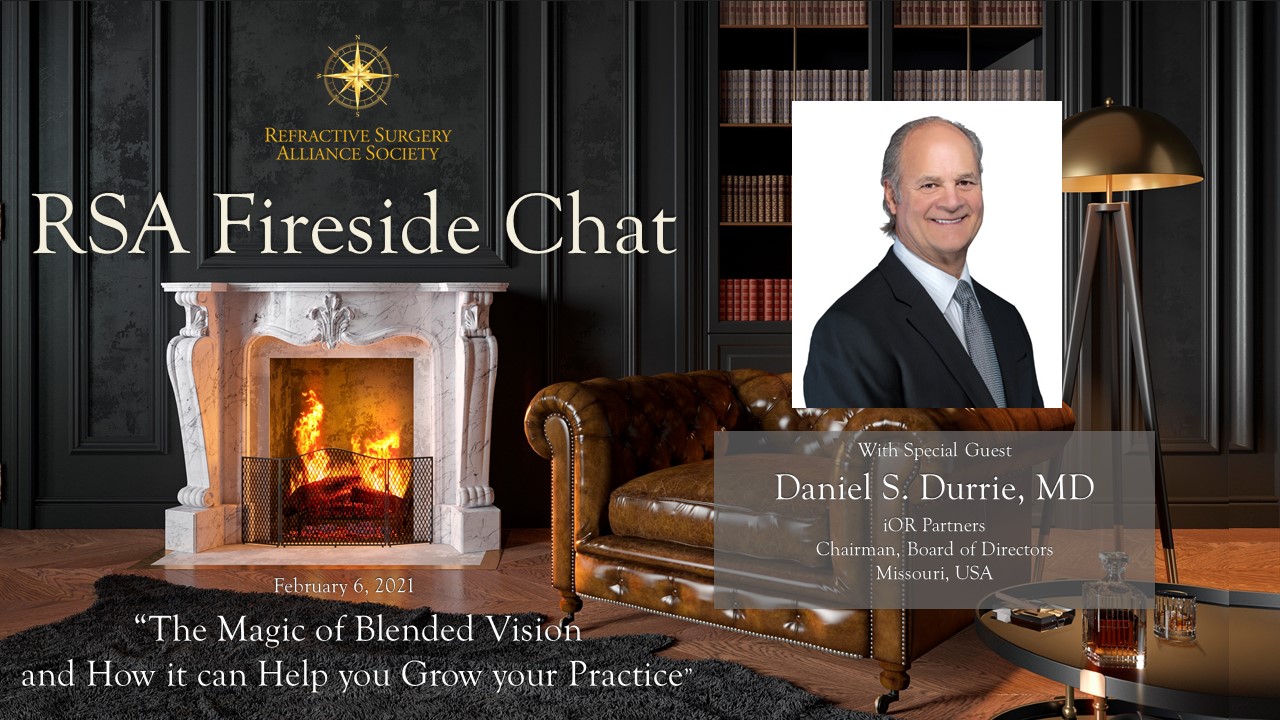 ---
Not yet an RSA Member?
Click Here to Join!