---
Paris, France
RSA Members enjoyed an evening of intimate conversation in the garden at the beautiful Mandarin Oriental Hotel.
---
San Diego California USA
The RSA 2019 Symposium: Ride the Tsunami of Digital Disruption! was fantastic! "Synergy through Connectivity" has arrived!
---
San Diego California USA
The YRSA Vision Cruise 2019 proved to be a well attended and well received. Thanks to hosts Blake Williamson, MD, and Charles Williamson, MD, YRSA Members enjoyed a "Surfside Chat" about the practice of Vision Correction and the future they will shape the future. Awesome views of San Diego Bay and a lot of great discussions were had to by all while sipping cocktails on the deck.
---
Fort Worth Texas USA
FAST TRACK TO INNOVATION – The Inside View on Innovation, IP, Clinical Trials and Medical Advisory Boards was simply put…outstanding! The Refractive Surgery Alliance (RSA) presented a one-of-a-kind conference, collaborating with physicians, manufacturers, and innovators. This March 2019 weekend at the Alcon Experience Center in Fort Worth Texas was unlike any other and sets a new standard for collaboration.
Thank you to the world-class faculty who presented, Alcon and the entire Alcon Team for hosting us at their Experience Center and to each and every RSA Member who attended this conference. Much more to come…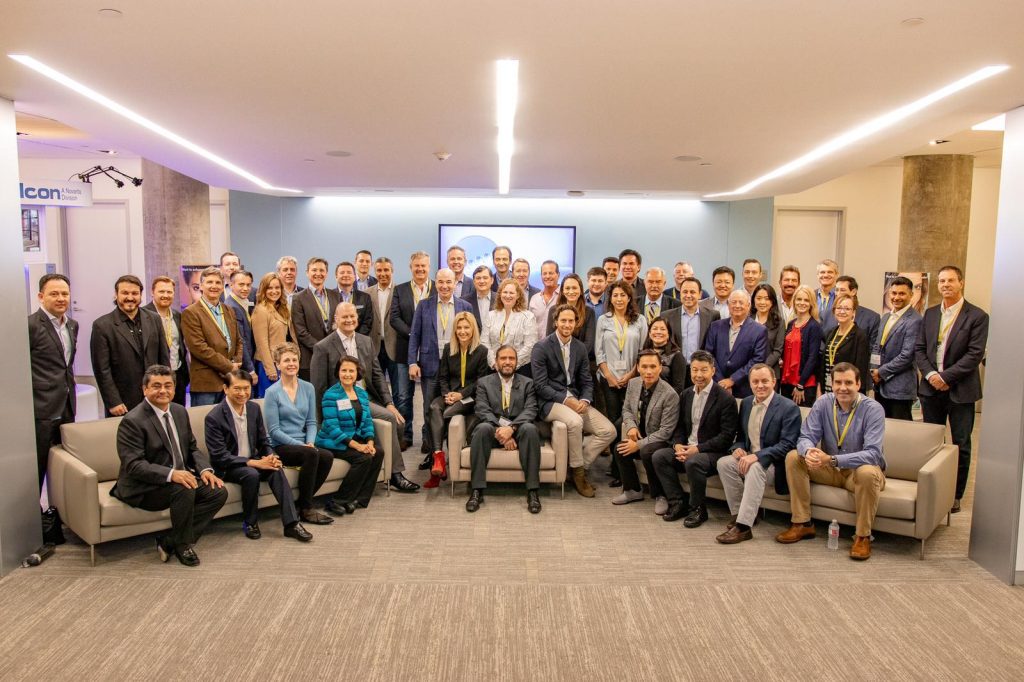 ---
Chicago Illinois USA
The annual RSA Vision Forward meeting looks ahead to 2019 under the leadership of incoming President Roger Zaldivar, MD. Vision Correction Surgery has come of age! 2019 initiatives include support for refractive surgery centers in Ethiopia, Peru, and Nepal, along with programs to provide vision correction to quadriplegics, the RSA Fellowship Program, support for the establishment of the College of Refractive Surgery, and a major initiative to increase awareness about Vision Correction Surgery. "Synergy through Connectivity" is the theme for 2019, as we collaborate to Correct Vision!
---
@ Kraff Eye Institute
Coby Kraff, MD and his Team at Kraff Eye Institute did an outstanding job for our Young RSA Members, hosting an entire afternoon "Peek Behind the Curtain" at Kraff Eye Institute. Dr Kraff shared his expertise and his passion for Vision Correction Surgery and his fundamental belief that vision is the lens to the world around us, worth preserving and restoring in every person. He showed the YRSA how he does this everyday ay Kraff Eye Institute, and how they can, and should do the same. Thank you Dr Kraff for an inspiring and unforgettable afternoon at Kraff Eye Institute.
---
@ sehkraft Augenzentrum Wien
The gracious hospitality of Matthias Maus, MD, Wolfgang, Riha, MD, Arthur Cummings, MD and Edith Lange, knows no bounds. "Thank You" to our RSA Members for hosting an elegant and inspiring evening at sehkraft Augenzentrum Wien during ESCRS 2018 in Vienna Austria.
---
Barcelona, Spain – June 16 – 19, 2018
---
@ Whitten Laser Eye
An overflow crowd of packed Whitten Laser Eye for the "YRSA Experience Day @ Whitten Laser Eye" on Friday, April 13, 2018. The afternoon provided a fast-paced demonstration of surgical technique, post-surgical viewing, and practice building discussion. And if that was not enough, while Dr's Whitten, Williamson, Rose, Parkhurst, and Kezirian, held an informative "fire-Side chat" with the group, Dr. Rose arranged a smorgasbord of sushi, wine & cheese and "Georgetown Cupcakes".
We extend a special "Thank You" to Blake Williamson, MD, Mark Whitten, MD and Shilpa Rose, MD for a stimulating afternoon at Whitten Laser Eye for our young ophthalmologists!
---
@ The National Institutes of Health
The annual RSA Symposium, designed, moderated and co-chaired by William Gensheimer, MD, and Gregory Parkhurst, MD delivered new and exciting discussions around two essentials themes – "Changing Perceptions of Refractive Surgery" and "Vision Correction Surgery as Primary Care for Refractive Errors". This unique mix of military-based and civilian-based refractive surgeons joined together and shared their common vision correction aspirations around "Refractive Surgery in the US Military", "Refractive Surgery in the Civilian Population", "Technology Access and Patient Safety", and more. The afternoon was filled with an ALL-STAR line-up of refractive surgeons who continue to shape, innovate, and influence the refractive landscape of today and into the future. Providing valuable insight from the military were Steven Schallhorn, MD, Mark Torres, MD, Bruce Rivers, MD, Scott Barnes, MD, Scott McClellan, MD, James Townley, MD and Joseph Pasternak, MD. The complimenting ALL-STAR line-up of refractive surgeons working in the civilian sector included Dan Durrie, MD, Frank Price, MD, Richard Norden, MD, Lance Kugler, MD, Roger Zaldivar, MD, Roberto Zaldivar, MD, Rex Hamilton, MD, Blake Williamson, MD, and Shamik Bafna, MD.
Thank you to our presenters and panelists for a stimulating afternoon of thought and discussion and thank you to our RSA Members in attendance for participation and continued support.
---
Instituto Zaldivar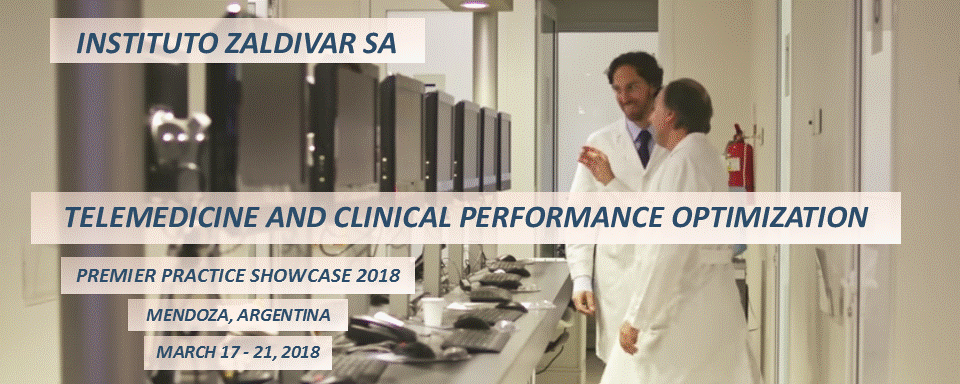 Set in the cosmopolitan city of Mendoza, Argentina is Instituto Zaldivar, host to Premier Practice Showcase 2018. Entering Instituto Zaldivar from the culturally intoxicating tree-lined streets of this bustling city, RSA Members were swept into the high-tech, fast-paced, grand design that is Instituto Zaldivar where "technologies-of-the-future" are standard of care, in use daily at the Instituto Zaldivar. Roger Zaldivar, MD spent an entire morning demonstrating the live use of Telepresence in his daily workflow, screening dozens of patients – live – from a cross-section of locations throughout Argentina. Telepresence, Telehealth, Teleophthalmology, and Telemedicine have long been a focus of Dr's Roberto and Roger Zaldivar, who have contributed not only a development space for these technologies to flourish, they have consulted, tested, deployed, and helped shape the successful launch of these technologies worldwide! With hundreds of telemedicine networks already linked to thousands of service-sites in the U.S. Telemedicine is not the future, it is the present. The group was treated to a special advance look at the latest developments in EHR by Roberto Zaldivar, MD, designer of the software to work FOR the physician. Members spent a captivating morning with Roberto Zaldivar, MD, whos ICL insights are not only exceptional, they are priceless. To the entire Zaldivar Family – Roberto, Estela, Roger, and Mercedes – thank you for your warmth and graciousness and for hosting our Members to dinner in your home. We are honored the Zaldivar family is a part of the Refractive Surgery Alliance. The RSA Premier Practice Showcases is once again described as "The Best Meeting Ever!" Enjoy these photos and highlights of the event.
---
Presbyopia Correction & SMILE @ London Vision Clinic

Held November 3 -5, 2017 at the London Vision Clinic in London England, this program featured in-depth didactic sessions, interactive wet labs and nomogram development for SMILE. SMILE (SMall Incision Lenticle Extraction) is one of the eight main procedures in refractive surgery and is currently performed using the Zeiss VisuMax lase, though several other companies are developing parallel technologies. This program served as the pilot program for the RSA Master of Refractive Surgery (MORS) "Core Competency" Dimension. Thanks to host and program director Dan Reinstein, MD MA(Cantab) FRCSC DABO FRCOphth FEBO, who has been a major contributor to SMILE research and development.
---
Medipolis | FIRM | sehkraft Augenzentrum Maus

Premier Practice Showcase 2017 was a tremendous success! Spanning July 5 -8, 2017 in two beautiful and culturally historic cities – Antwerp, Belgium and Köln, Germany, Thanks to our hosts Erik Mertens, MD of Medipolis and Claudia Doeser of FIRM and Matthias Maus, MD and Edith Lange of sehkraft Augenzentrum Maus for comprehensive, behind the scenes view of what has made these practices so successful. The RSA Premier Practice Showcases are often described as "The Best Meeting Ever!" and are truly differentiating. They are a perfect example of how the RSA is growing refractive surgery through collaboration. Enjoy these photos and highlights of the event.
---
The 2017 Refractive Surgery Alliance Symposium was held at the UCLA Stein Eye Institute in Los Angeles on May 4th under the direction of Rex Hamilton, MD and Greg Parkhurst, MD. The program included an expert faculty from around the world in a very lively format. Topics included the seven procedures used to treat vision over a lifetime, extensive discussions of the five RSA initiatives and an industry panel with top-level executives from manufacturers. New programs were announced, including the Young RSA (YRSA) section under the leadership of Blake Williamson, the patient outreach program, the RSA Focus on Independence and the RSA Gives Sight to the World program. Practice building sessions included Call Center Best Practices, Telemedicine, the RSA Social Media Campaign, positioning for Premium IOLs, tips for successful integration of SMILE into a refractive practice, the RSA Group Buy Program and Internal Marketing. The meeting previewed the RSA 2017 Premier Practice Showcase to be held in July 2017 in Antwerp, Belgium and Cologne, Germany – don't miss it!
---
The Refractive Surgery Alliance is proud to have offered four packed days of content, stimulating discussion and inspiring ideas for innovation and collaboration at the "Technology & Innovation Dimension: Lenses, Inlays, and Biometry". Thank you to all RSA Members who attended and participated in the production of this Master of Refractive Surgery Module for the RSA Membership.
---
The Refractive Surgery Alliance debuted the Master of Refractive Surgery Program with the first in a series of programs in Miami Beach Florida. The first in a series of three programs is "Technology & Innovation: Current Lasers, Cross-Linking, and SMILE" where the tremendous discussion and innovative thought made for a fast-paced, focused weekend of collaboration around the technologies for Vision Correction. Thank you to all RSA Members who attended and participated in the production of this Master of Refractive Surgery Module for the RSA Membership.
---
Another fantastic event put together and enjoyed by the Members of the Refractive Surgery Alliance Society at the Ritz-Carlton in New Orleans  The full-day program hosted a packed room of RSA members and invited industry guests.
---

What a fantastic evening! RSA members enjoyed a fast-paced 90 minutes at the iconic Grant Grill & Lounge in the U. S. Gran Hotel located the heart of the Gaslight District in sunny San Diego California. Cocktail and hors d'oeuvres were enjoyed by all as current and prospective members discussed the 2015 RSA Initiatives and viewed portions of the recent RSA Film Event in Dallas Texas. A highlight of the evening was the opening for registration of the first "Premier Practice Showcase Event", an RSA Exclusive Event to be held at Vance Thompson Vision in Sioux Falls South Dakota. This three-day workshop in June 2015 marks a new collaboration between ophthalmic surgeons, which is a very important Initiative of RSA Membership.
---
Congratulations to all the RSA members who participated in this weekend's exclusive RSA filming event in Dallas, with the Lifestyle Healthcare Channel.
With video becoming the primary communication tool for social media, maintaining a top-tier web page presence including "content rich" materials for patient education and interaction is what the weekend in Dallas was all about.  Furthermore, the videos spots, roundtable discussions, PSA's and "Doctor Philosophy" feeds directly support and promote the RSA Initiative of "Educating the Public" about refractive surgery. Under the careful oversight of the professional staff at Lifestyle Healthcare Chanel (LHCC) dozens of top quality videos were produced for all.
The weekend went extremely well and was a first-class affair. A great time was had by all and the RSA vision moved forward on many fronts.
This was the first of a series of these events, so all RSA members will have the opportunity to participate in the future.
---
The Refractive Surgery Alliance (RSA) just wrapped up a fantastic meeting during the October meeting of the 2014 American Academy of Ophthalmology held in Chicago Illinois. The meeting was packed with interactive discussion and ideas about growing a refractive practice.
Comprised of many of the best minds in refractive surgery, The Refractive Surgery Alliance members and the Advisory group centered discussions on how refractive surgeons can practically, professionally and cost-effectively capture the growth and opportunities in refractive surgery. Topics included updates on the critical elements of refractive surgery growth which affect every practice, insights, and techniques on how to capture the patient supply chain through education and biometric monitoring, new entrepreneurial opportunities for refractive practice growth, and a frank evaluation of the risks and benefits of the various refractive surgery practice models.
The "Presidents Award" was presented to Gregory D. Parkhurst, MD, FACS signifying his dedication to the RSA Initiatives.
If you have a keen interest in refractive surgery and would like to participate in shaping the direction of the refractive marketplace, beginning with your own practice, then we hope you will join us as you will be welcome as a member of the Refractive Surgery Alliance!
Check back soon to find out when our next meeting will be!
---
The RSA held its inaugural meeting on Boston in April 2014. A great deal was accomplished and the group's alignment behind the RSA mission to promote the growth and development of refractive surgery was clearly established. Starting initiatives will prioritize physician education around entrepreneurial skills and public education regarding the benefits of refractive surgery.
The RSA sees refractive surgery as one of the greatest achievements of our time. Lifestyle, safety, performance, and productivity are all improved with independent vision. Our members feel an obligation to bring those benefits to as many people as possible.
Congratulations to President Lance Kugler, MD, President-Elect Greg Parkhurst, MD, Treasurer Matt Hammond, MD and Secretary Jennifer Loh, MD, on their election to the Executive Committee. The amazing accuracy of current technologies and a well-established understanding of the benefits and limits of refractive surgery make these exciting times for refractive surgery!